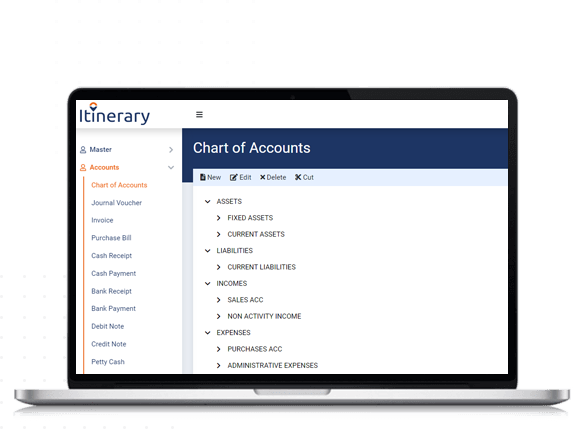 Finance Module
Itinerary Finance Module is Global Innovation's end solution for Travel Agencies. It automates Booking-related vouchers and receipts from the payment links, to be verified and posted to the accounting module with a click of a button with the ability to create multiple iterations of Vouchers. Combining our Booking tools and Finance module is a one-stop solution for travel Agencies enabling Credit Customers to work smoothly and Top up facilities.
Key Features
Real-time Reports – Accounts Receivable, Accounts Payable, General Ledger, Balance Sheet, Profit and Loss Report, Trial Balance, Tax Reports, and Outstanding Reports.
Revenue Analysis Reports.
Seamless communication between reservation and accounts module.
VAT automation.
Customer and Supplier ageing reports with Multiple Filter options.
Invoice Knockoff.
Auto creation of Closing balances on Year End.
Fixed Asset Management.
Transaction trace back.
Branching – To Handle multiple branch data.
Bank Reconciliation.
Purchase Bills Reconciliation.
Lock Date – To freeze the work till the Selected date.
User Login Info and Audit Trial.
Automation of Receipt posting for Payment Links.
BSP Reconciliation (Coming Soon).
Let's Talk About Your Needs